Polska Hokej Liga
From International Hockey Wiki
The Poska Hokej Liga (polish - Ekstraliga w hokeju na lodzie) is the premier ice hockey league in Poland. Previously, it was known as the I Liga or Ekstraklasa from 1927–1999, and the Polska Liga Hokejowa from 1999–2013. In 2013, it was reorganized as a limited liability company and renamed the Polska Hokej Liga.
History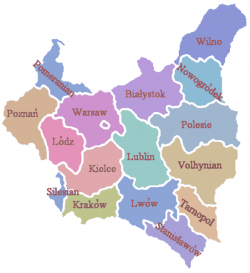 The voivoideships of inter-war Poland.
The championship was started by the Polish Ice Hockey Federation (Polski Związek Hokeja na Lodzie) in 1927, although the first attempt to stage a national championship was made a year earlier. At first it was a non-league system composed of regional tournaments. There were eight primary regional championships - Kraków, Pomerania, Poznań, Łódz, Lwów (which also featured teams from Tarnopol and Stanislawów), Silesia, Warsaw (also comprised of teams from Kielce), and Wilno. There was also a championship played in Volhynia in 1933 and 1934. Each regional competition was governed by a Okręgowy Związek Hokeja na Lodzie (District Ice Hockey League). Poland was divided into 17 subdivisions, known as Voivoideships, from 1921-1939. By 1936, hockey was played in every voivoideship except for Nowogródek.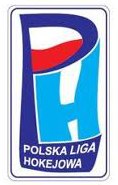 The national championship consisted of a preliminary round, featuring the regional champions. The best teams qualified for the final tournament, where the winner was declared champion. In 1938, the Polish Ice Hockey Federation decided to reorganize the championship, by creating a league system. Those plans were abandoned due to outbreak of World War II. After a six-year hiatus, the championship resumed in 1945-46. The Polska Liga Hokejowa was founded as the national ice hockey league in Poland in 1955.
Current Teams (2016–2017)
| Team | City | Arena | Capacity |
| --- | --- | --- | --- |
| ComArch Cracovia | Kraków | Lodowisko im. Adama "Rocha" Kowalskiego | 2,514 |
| GKS Tychy | Tychy | Stadion Zimowy w Tychach | 2,535 |
| TatrySki Podhale Nowy Targ | Nowy Targ | Miejska Hala Lodowa w Nowym Targu | 5,000 |
| JKH GKS Jastrzębie | Jastrzębie-Zdrój | Jastor | 1,986 |
| Unia Oświęcim | Oświęcim | Hala Lodowa MOSiR Oświęcim | 5,000 |
| Polonia Bytom | Bytom | OSiR w Bytomiu | 3,000 |
| Orlik Opole | Opole | Toropol | 3,000 |
| Nesta Mires Toruń | Toruń | Lodowisko Tor-Tor | 4,000 |
| MH Automatyka Stoczniowiec 2014 | Gdańsk | Hala Olivia w Gdańsku | 5,500 |
| KH GKS Katowice | Katowice | Lodowisko Spodek | 1,500 |
| SMS U20 Sosnowiec | Sosnowiec | Stadion Zimowy w Sosnowcu | 3,500 |
Medalists
Titles by team
| Titles | Team | Year |
| --- | --- | --- |
| 19 | Podhale Nowy Targ | 1966, 1969, 1971, 1972, 1973, 1974, 1975, 1976, 1977, 1978, 1979, 1987, 1993, 1994, 1995, 1996, 1997, 2007, 2010 |
| 13 | Legia Warszawa | 1933, 1951, 1952, 1953, 1954, 1955, 1956, 1957, 1959, 1961, 1963, 1964, 1967 |
| 1 | KS Cracovia | 1937, 1946, 1947, 1949, 2006, 2008, 2009, 2011, 2013, 2016, 2017 |
| 8 | Unia Oświęcim | 1992, 1998, 1999, 2000, 2001, 2002, 2003, 2004 |
| 6 | Polonia Bytom | 1984, 1986, 1988, 1989, 1990, 1991 |
| 5 | AZS Warszawa | 1926, 1927, 1928, 1929, 1930 |
| 5 | Zagłębie Sosnowiec | 1980, 1981, 1982, 1983, 1985 |
| 3 | Górnik Katowice | 1958, 1960, 1962 |
| 3 | GKS Katowice | 1965, 1968, 1970 |
| 2 | KH Sanok | 2012, 2014 |
| 2 | GKS Tychy | 2005, 2015 |
| 1 | Pogoń Lwów | 1933 |
| 1 | AZS Poznan | 1934 |
| 1 | Czarni Lwów | 1935 |
| 1 | Dąb Katowice | 1939 |
| 1 | KTH Krynica | 1950 |
See also
References
External links
European Hockey Overview
Top-Level Leagues
International
Alps Hockey League - Balkan Ice Hockey League - BeNe League - European University Hockey League - Kontinental Hockey League - MOL Liga
National
Armenia - Austria - Belarus - Belgium - Bosnia and Herzegovina - Bulgaria - Croatia - Czech Republic - Denmark - Estonia - Finland - France - Georgia - Germany - Greece - Hungary - Iceland - Italy - Kazakhstan - Latvia - Lithuania - Luxembourg - Macedonia - Netherlands - Norway - Poland - Romania - Serbia - Slovakia - Slovenia - Spain - Sweden - Switzerland - Turkey - Ukraine - United Kingdom
Second-Level Leagues
Belarus - Balkan League - Belgium - Czech Republic - Denmark - England - Finland - France - Germany - Hungary - Iceland - Italy - Latvia - Netherlands - Norway - Poland - Russia - Slovakia - Spain - Sweden - Switzerland - Turkey
Third-Level Leagues
Austria - Czech Republic - Denmark - England - Finland - France - Germany - Hungary - Italy - Netherlands - Norway - Poland - Russia - Scotland - Slovakia - Sweden - Switzerland
Fourth-Level and lower Leagues
Czech Republic (4, 5) - Finland (4, 5, 6, 7) - France - Germany (4, 5) - Hungary - Netherlands (4, 5, 6) - Norway (4, 5) - Poland - Russia - Sweden (4, 5, 6, 7, 8), Switzerland (4, 5, 6)
Cup Competitions
Cups
Belarus - Belgium - Bosnia and Herzegovina - Bulgaria - Czech Republic - Denmark - East Germany - Estonia - Finland - France - Germany - Hungary - Italy - Kazakhstan - Latvia - Lithuania - Luxembourg - Netherlands - Norway - Poland - Romania - Scotland - Serbia - Slovenia - Soviet Union - Spain - Switzerland - Ukraine - Yugoslavia
Supercups
Belgium - Estonia - Hungary - Italy - Poland - Netherlands - Slovenia - Spain
Defunct Leagues
Soviet Union - Russia - Czechoslovakia - Yugoslavia - West Germany - East Germany - Ireland - Luxembourg - Malta - Portugal - Alpenliga - Interliga - Inter-National League - North Sea Cup - Panonian League - Eastern European - Balkan League - Baltic League - Carpathian League - Slohokej Liga - English League - English National League - Scottish National League - British Hockey League - Ice Hockey Superleague - German Championship - Swedish Championship - Klass I - Svenska Serien - Elitserien - Swedish Division I - SM-sarja - Swiss National Championship - Swiss International Championship
Women's Leagues
International leagues
Elite Women's Hockey League - EWHL Super Cup - Low Countries Cup
National leagues
Austria - Belgium - Bulgaria - Croatia - Czech Republic - Denmark - Estonia - Finland - France - Germany - Great Britain - Hungary - Iceland - Italy - Kazakhstan - Latvia - Netherlands - Norway - Poland - Romania - Russia - Slovakia - Slovenia - Spain - Sweden - Switzerland - Turkey
Defunct leagues
Junior Leagues
Austria - Belarus - Belgium - Bulgaria - Croatia - Czech Republic (Czechoslovakia) - Denmark - Estonia - Finland - France - Germany (East Germany) - Great Britain - Hungary - Iceland - Italy - Kazakhstan - Latvia - Lithuania - Netherlands - Norway - Poland - Romania - Russia (Soviet Union) - Serbia - Slovakia - Slovenia - Spain - Sweden - Switzerland - Turkey - Ukraine